3.3 Prepare the ground for a "comfy landing" (finding a page to act on)
Now you need to prepare a landing page that you′ re going to optimize. There are two options: you either modify an existing page, or make a new one.
Option 1: Modify an existing page
Time to pick out one of your site′ s pages to act on. Follow my instructions, to make the right choice.
First, you check which of your website pages rank best for your first keyword. In which Search Engine you want to rank well? Let it be Google.co.uk. So go to it and type in a query like this:
your_keyword site:your_domain_name
Here′ s an example. If your site is http://www.weddingchannel.com and your main keyphrase is wedding gifts, you type in:
wedding gifts site:www.weddingchannel.com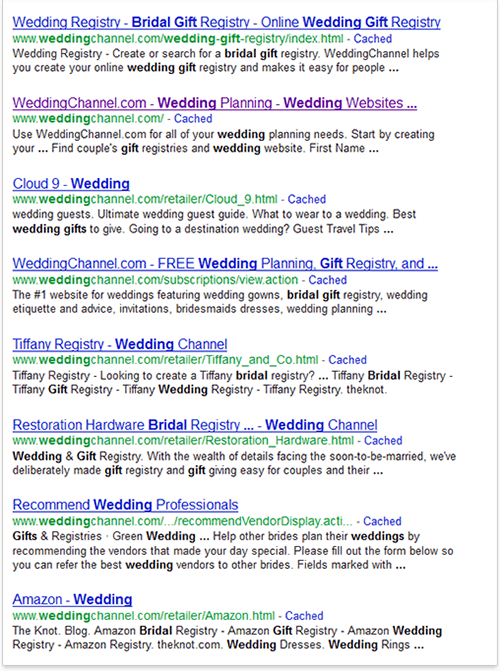 On the first results page, you′ ll see a list of 10 pages that belong to your site and rank best for the keyword wedding gifts.
If you made a normal query, just with a keyword wedding gifts, you′ d see 10 best ranking pages among all websites. And right now, it′ s almost the same. You see top 10 pages for the keyphrase wedding gifts. The only difference is that all these pages are on your own website.
And, you choose one of these 10. Why?
The logic is simple: best–ranking pages are already good, in SEO terms. So if you pick a #1 page, this will save you much effort to optimize. Still, you need to choose between all ten best–ranking pages if you don′ t want to change some of your already well optimized pages.
For instance, now I′ m optimizing a site that sells kitchenware. When I just started, the page that ranked best for free delivery kitchenware was the "buy" page. As I looked at it, I saw that this buy page is greatly done. It makes order and payment convenient, and it′ s not supposed to convince anyone to buy, because if visitors are there, they are already convinced. So it′ s not wise to change this kind of a page. I mean, in a case like this, you′ d better pick out another one.
So, look through your 10 best–ranking pages. Think about each of them, and choose the one you′ d like to optimize now.
Option 2: Make a new page
If you didn′ t pick out any of your 10 best pages no problem!
First, go to your site and choose a typical page with your usual navigational links, headers and footers. Found one? OK, now the #1 thing to do is save a copy of this page with a good search–engine–friendly name. I mean a name that has at least one keyword in it.
Here are some examples. If your main keyword is tyres, a name like tyres–for–trucks–and–buses.html will be great.
Or, if your page′ s name is /buy–gifts.html, and wedding ideas is your keyword, a pretty good new name for the page will be /check –wedding–ideas.html.
Don′ t forget that users see these names and sometimes bookmark and even memorize them. So write something that makes sense.
After you upload the file to your site via FTP, the new page appears on your site.
DO IT NOW! Get ready with a page you′ ll be optimizing: choose an existing one or create a new page.
Ready to go? All right, and now I have to confess one thing. It′ s from my own experience, so trust me...