4.10 "SEO after Penguin" checklist
Although I′ve already mentioned the Penguin update in this chapter, I′d like to stress once more that such spammy link signals as: advertising text links with exact match anchor text, comment spam, content on article marketing sites, and links from low–quality sites were the main indicators of websites, using manipulative SEO tactics.
So now it′s time to talk about how you can avoid it and save your website from penalty, together with the backlinks you′ve invested time and resources into.
If you follow these simple tips, your site will be only gaining rankings in post–Penguin Google.
1) Check Your Anchor Texts Diversity
As I′ve already mentioned, Penguin does NOT tolerate hundreds of backlinks with anchors exactly matching commercial terms. So do your best to diversify the anchor texts so that they include not just the keywords you gain profit from.
To quickly have a look at your existing anchors, you′ve got SEO PowerSuite at hand. Launch SEO SpyGlass, create a new project for your domain and let the tool collect the data for you, including all of your anchors.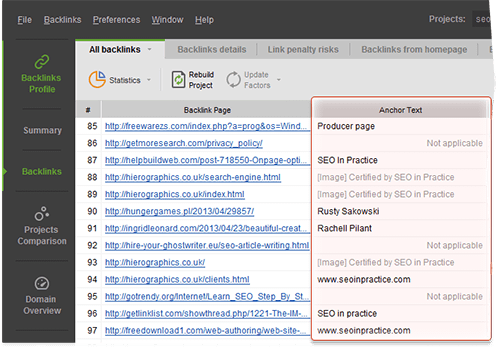 Anchor texts in SEO SpyGlass
2) Check the Backlink Domain Diversity — The 3 Basic Factors
Today, the diversity of the backlink profile plays the key role in a successful withstanding of another major update. And you can weather another storm only if your SEO strategies are diverse. Yet, what exactly does this mean?
Avoid sitewide links; be careful when choosing the backlink domains and the place your backlink will be located. Pay attention to:
Domain diversity — basically, it′s better to have 2 links on 2 different domains, than 4 on 1. Besides, you′ll benefit more by having backlinks from sites with different extensions. If there are links from .com, .net, .org, .edu and .gov sites, Search Engines may think it appeals to a variety of audiences.
Domain IP diversity — if websites are hosted on the same server, it′s very likely they′ll have the same (or similar) IP address and that′s not what you′re looking for.
Domain age — an old domain seems to be more credible for Search Engines, and if all of your links come from newly registered domains — that′s an alarming sign.
And try to get backlinks from various sources — blogs, press releases, forums, Q&A sites, video platforms (YouTube, Vimeo), podcast websites, social media sites (Twitter, Facebook, LinkedIn).
Of course, collecting these data manually may take weeks of hard and boring work. With SEO SpyGlass you can collect all the backlink domain–related information in a couple of clicks!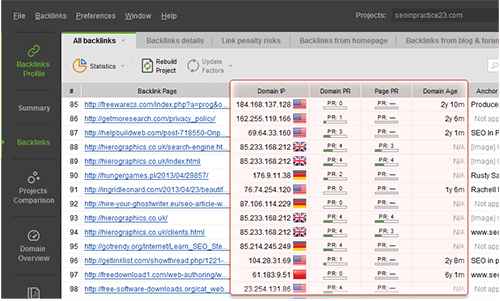 Domain metrics in SEO SpyGlass
3) Check Other Relevant Backlink Data
All in all, when we speak about links, virtually everything matters. Take your time to analyze:
Titles and descriptions of the linking pages — the more relevant they are to what your website offers — the better!
The number of outbound links on a linking page — As the PageRank is proportionately divided between all links on a page, it′s useful to know how many outbound links it has. The fewer, the more profitable a link from this page will be for you.
The overall domain popularity — check the PageRank, Alexa Rank and other metrics you are interested in to see how well is the overall performance of a particular website.
Dofollow/nofollow backlinks ratio — although nofollow backlinks are not counted by Search Engines, the backlink profile looks more natural when it contains links of both types.
And again, SEO SpyGlass is your number one tool to quickly get the most thorough data for your backlinks.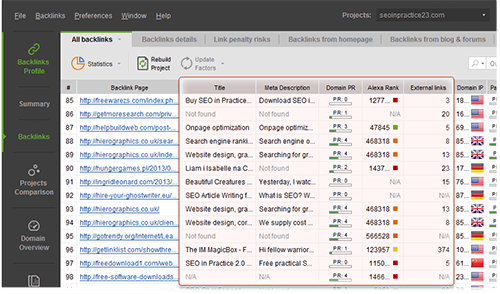 Other metrics in SEO SpyGlass
4) Okay, what else can you do?
Backlinks are the biggest part of the Penguin update, but don′t forget some other things that can influence your website credibility and rankings:
Eliminate keyword stuffing issues: with the help of WebSite Auditor calculate the ideal keyword density — the one used by your currently top–ranking competitors. If that technique lets your competitors rank top, it′s time you take it on board!
Eliminate duplicate content: make sure all of your pages have unique titles and Meta descriptions. This can be easily checked in WebSite Auditor too. Just launch it and rewrite duplicate tags if there are any.



Titles displayed in WebSite Auditor

Fix broken links — if there are pages with 404 or 302 status codes, you′d better redirect them to other relevant live pages (using 301 redirect I′ve already mentioned). If you don′t do this, besides losing visitors and robot′s attention, you may lose the link juice from links pointing to these broken and 302–redirected pages.



HTTP status codes

Reevaluate internal links — make sure the anchors of your internal links are relevant and contain keywords, but are not stuffed with them.
Make sure your website contains all of the "classic" parts: a valid XML sitemap, a Robots.txt file, copyright details and a user–friendly 404 page
Optimize the size of the landing pages — if your pages take too long to download, users are likely to return quickly to the search results page, which is not a good sign for Google.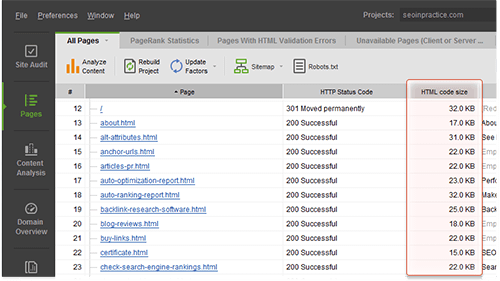 HTML code size
As you can see, all these tasks can be performed by the WebSite Auditor, which arranges tons of data in a neat form and all you have to do is just to pass these reports to your webmaster or fix these issues yourself.