1.3 Making Your First Ranking Report
I know you already have a massive list of great keywords, and it′s good enough to start with. Still, there′s yet another thing to take care of now. I mean, there must be a way to see how well your site is doing. How are you going to check your progress?
Some will ask, why check it at all? But how can you know for sure that you′re doing the right thing, if you don′t have good evidence?
Any check is an impulse to the subconscious that forces you to do better. A real–life example comes from sports: after sportsmen start evaluating their results regularly, their achievements jump 20% up — and this is just because of measuring success, all else is done the same way!
In SEO, the traditional solution is to make keyword ranking reports at least once a week. (I do it daily, though. With the software I use, it′s a minute′s business.)
Now look at your watch. It looks like it′s high time for your first ranking check :–)
Option 1: Measure keyword rankings with your own hands
Here′s a way to do it manually: type in a keyword in the Search Engine where you wish to check the ranking, then find your site in its result pages and check what place it′s on. In our case, the website is on the 21–st position.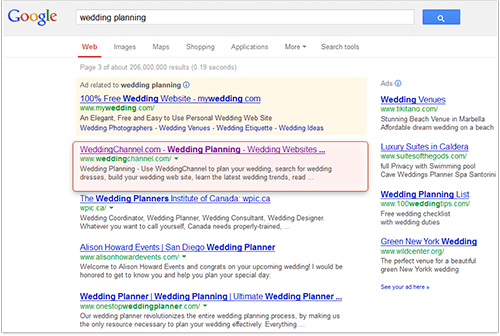 Checking Google rankings manually
Pretty boring, I know. But you can automate part of the work — here′s a quick list of free resources to use for evaluation of your keyword rankings:
What′s good about them? They′re simply free and good enough!
What′s bad, then?
First of all, they only check positions in Google.com, Yahoo! and Bing. So if you need, say, to check rankings in Google.de, or Ask.com — then do all the job manually, or use the Rank Tracker tool I describe further.
And another thing. Well, they just won′t remember you. If you come after a month to make another check, you′ll have nothing to compare with. You can only keep your previous results yourself, if you invent a way to do so.
Also, most of these free resources require Yahoo! and Google API keys. This makes the work inconvenient, because API keys put certain limitations on the number of queries you can perform.
Still there′s a non–free Rank Tracker tool, which not only checks your rankings instantly, but also shows your progress and doesn′t necessarily need a Google API key — so it′s great to evaluate your work.