Option 2: One click to choose the best keywords
Yes, the time comes to see how keyword software makes the final decision swiftly and gracefully. So I′m anxious to say, it′s already there. Rank Tracker is done with keyword research — and with the choice as well
Let′s have a look. On the right of the keyword tool′s window, find the combo box with workspaces and choose Keyword Research View. Now you can see a column with KEI. In this column, the tool has put a color marker for each word, ranging from green to red.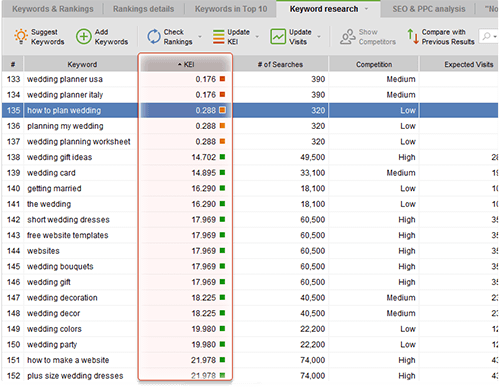 Keyword Efficiency Index in Rank Tracker
So, What′s KEI and Why Do We Need It?
You need keywords with high KEI. The greener the marker is in Rank Tracker, the better the keyword. So just sort keywords by KEI (click the header of the column), and separate the best keywords from non–worthy ones. And, you can just remove the keywords with bad KEI.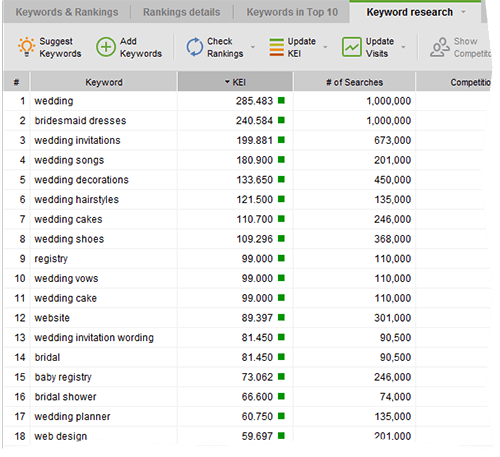 In the beginning choose keywords with "green" KEI
But WAIT! There′s more…
Potential traffic
Rank Tracker does not only let you estimate KEIs in a click of mouse, but also calculates how much visits this or that keyword may bring to your website i.e. how profitable a ranking for a particular keyword will be. Go check the Expected visits tab and make your choices!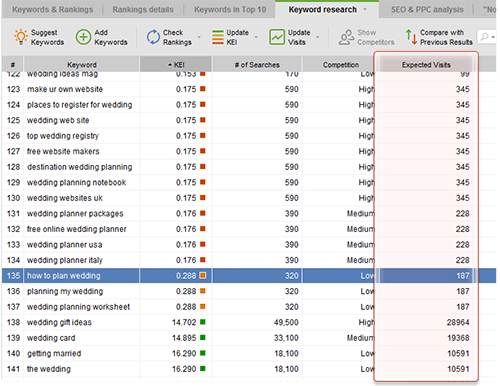 Potential traffic
Eventually you′ll be left with 100–130 keywords. First, pay attention to the top 5 ones. You′ll use them a lot to optimize your website. The next 30 will be a good alternative, say, to create variations. Then, the remaining terms are good enough and should be there just in case.
DO IT NOW! Calculate KEI for your keywords, sort them out and choose 5 best keywords, 30 alternative ones, and leave 65 more to create more variations.
Let′s sum it up. You will hardly realize it at the moment, but now you have a list of premium quality keywords that are worth a fortune. As a next step, we′ll check where your site ranks for these words. To put it simple, let′s find our starting point.